James Bond Roulette System is an relatively effective method to bet 200 tokens in the following way:
140 tokens bet on numbers 19-36;
50 tokens bet on six numbers from 13 to 18;
10 tokens as insurance to zero.
Once you look, you found that you have covered two thirds of the canvas!
If it comes below half net profit is 80 tokens;
If it comes one of the six numbers, the net profit is 100 tokens;
If it comes zero net profit is 160 coins.
If it comes a number of the top half and losses
next time stakes increase, as in the system Martingale.
When betting on Bond have a chance to regain
invested capital, thanks to bets on the six numbers and zero.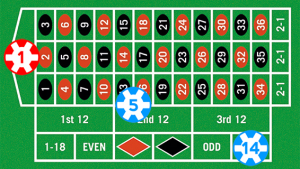 If you're going to use this system, remember that it provides you a high chance of a quick profit. Then immediately exit the game because you can follow a long losing streak. Therefore, use the Bond System only when you have sufficient capital to withstand a long losing streak.
You can test James Bond Roulette System  in free online casinos with a virtual cash balance and you will see how effective and profitable might be.